Fast-growing SMEs often run into trouble when their initial IT systems are no longer up to the task. Because they were not intended for this size of company, but also because their systems are not integrated. We helped a Flemish SME overcome this hurdle and prepare itself for years of further growth.
An SME ready to jump
About five years ago, Brainsquare was contacted by a fast-growing Flemish SME selling gardening and building products. They had some basic IT systems for bookkeeping and inventory. But neither the capacity nor the integration allowed for much further growth. They wanted to take the next step, but having no internal IT experts, they didn't know where to start.
That was the phase they were in when they contacted Brainsquare.
We sat down with them to discuss their needs and roadmaps. We then did a short analysis, matching their requirements to what was available on the market, especially with respect to ERP systems.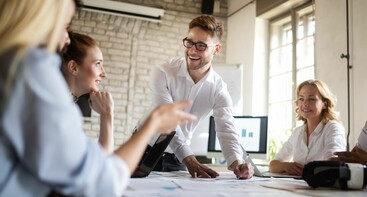 The basis: a cloud-based ERP
With the available information, they took the decision to source a custom-built ERP system (Enterprise Resource Planning) as a basis for their further digitalization.
Such an ERP system is key to automate and manage business processes for growth and optimal performance. It will, for example, manage the stock inventory based on past activity, future needs, and a financial analysis.
Brainsquare took it upon themselves to design and implement the cloud-based ERP and help it introduce in the company.
CRM and warehouse management
In a next step, and to integrate the needs of our customer's sales team with the new ERP, we implemented a Salesforce CRM on top of the ERP. Both systems had to be tightly integrated, so that for example customer data only had to be entered once and could then be used throughout all processes.
Since we started working with them, the company has kept on growing with more than 20% per year. Through an acquisition, they also made inroads into the B2C market.
Both their B2B and B2C business heavily depends on transport and warehousing. So the next need we tackled together was warehouse managing. Also here, the decision was made to go for a custom-built system on top of the new ERP.
The final touch: e-invoicing and e-ordering
All along, we also worked on enabling e-invoicing and e-ordering, so digitally connecting the company with customers and suppliers. In this respect, Montova was crucial, a Brainsquare-grown company and platform for EDI integration. Montova is a connect-and-play cloud service that allows for automated ordering and invoicing.
In the five years since we started collaborating, the company grew from a B2B player into an integrated B2B and B2C supplier. All along, they kept on growing with more than 20% per year, a number they plan to sustain in the future. Thanks to the new digital landscape that Brainsquare helped set up, they are now ready for a long period of growth and success.