Although price adjustments may not be the most enjoyable thing to be informed about, it is important to understand where they come from and, more importantly, how to limit their impact on your business.
How much is the price increase?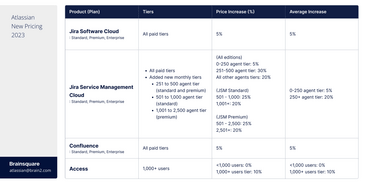 Why is Atlassian increasing prices?
Atlassian has been committed to making its cloud products the best in class. This can easily be spotted by taking a quick look at the Cloud Roadmap and seeing how many features were introduced in the last year, but also by looking at the future plans.
To name a few major upgrades:
Amongst these features are some major improvements to how Atlassian cloud products are used today, as well as some smaller quality-of-life adjustments.
Besides features, Atlassian has also heavily invested in complying with different regulations around the world, such as HIPAA compliance, continued efforts in GDPR, and even more data residency options on its cloud platform.
Is there anything I can do to avoid impact?
Although fully avoiding the impact of the price increase is not possible in the long term, there are some things you can do now to minimize its influence or postpone it to a later date.
Lock in your price now!
If you are a customer on a monthly payment plan, you have the option to switch to an annual plan and maintain your products at the old (before the increase) pricing for up to 2 years.
Customers already on an annual payment plan can also lock in the price if your renewal falls within the next 90 days or if you're planning to upgrade your licenses.
However, this requires immediate action as time is limited. As an Atlassian Solution Partner, Brainsquare can lock in a price quote for your products until October 18th.
Analyze & Optimize your license usage
Many customers have both Jira Software and Jira Service Management licenses applied to the same users. This is often done for a variety of reasons, such as to grant Service Management users access to Jira Software boards. The question is whether that is still necessary now that Kanban boards are coming to Jira Service Management projects.
Other customers may be using Jira Software, while Jira Work Management could be a better and cheaper fit for them. Are you also aware Atlassian has a bundle called 'Atlassian Together'? This bundle contains multiple products like Confluence, Jira Work Management, Trello, and Access at a competitive price.
It's time to double-check your use cases! And in case you're simply unsure if you can do better, you can always reach out to us for help: atlassian [at] brain2.com (atlassian[at]brain2[dot]com)
Remove redundant applications
Another area where many of our customers often find significant cost saving opportunities is within their broader IT environment. When comparing prices with other products, Atlassian consistently stands out as the best price-value choice. However, it's common for companies to have multiple products that have the same features already present in their Atlassian products.
For instance, you might be using several service management tools that could be consolidated into a single Jira Service Management environment. Or maybe you have various diagramming tools that are now competing with Confluence's whiteboard feature?
Additionally, some businesses continue to use add-ons that have become obsolete as new features are added to Atlassian's products.
By taking a bit of time to look at your IT landscape with a critical eye, you can quickly identify where cost savings can be realized. It all starts with understanding the feature set available in the tools, the specific use cases these tools are trying to solve, and a cost calculation for 'what-if' scenarios.
What can Brainsquare do for me?
Every IT landscape is unique, and that's exactly where our expertise shines the brightest. With years of experience in Application Development, Application Integration, and Collaboration Tools, we are confident in our expertise when it comes to optimizing IT landscapes.
We can help you identify cost saving opportunities, integrate your tools better, guide you on best practices, and, most importantly, be the partner you can trust and rely on.
Contact us to learn how the price adjustments will impact you and what you can do to combat them.